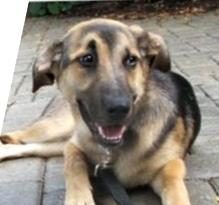 The name Willa has a wonderfully fearless quality…something that we hope this little girl will develop! Right now Willa is a bit timid but warms up quickly. She desperately wants affection and wants to give it right back, it just takes her a little longer to see if she can trust someone. We believe that she is a German Shepherd mix, possibly with Beagle. She is currently being fostered with 4 large dogs and getting along great. She is learning how much fun it is to be a dog by going for walks, playing with toys, and meeting all kinds of new people. Willa will need a home that understands she may not be the life of the party right away, someone who is willing to continue teaching her new things and show her patience and kindness in the process. If you would like to meet beautiful Willa, please fill out an online application.
Estimated birthdate: Jan/Feb 2016
Weight: 30 lbs (not full grown)
Good with cats: unknown
Good with kids: Prefer 10 and up
Housebroken: in progress
**in home foster**
Comments are closed.